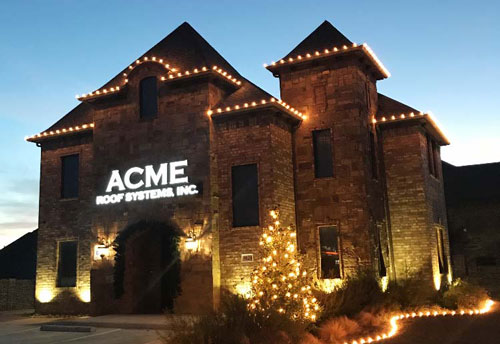 Acme Roof Systems in North Richland Hills, Texas
ACME ROOF SYSTEMS, INC has a professional management team with experience in roof design, construction, and repair since 1995. We take special pride in the fact that we have employed the same roof installers for over two decades. We believe this is a strong testament to our stability and proves that we take great pride in our workmanship.
Our installers are certified applicators for the largest manufacturers in the nation. We have established and maintained great working relationships with many real estate agencies, insurance agencies, as well as several other property management companies. We have over 35,000 satisfied customers and have proudly installed over 55 million square feet of roofing in the DFW Metroplex!
We are members of the Better Business Bureau and have maintained an A+ rating for the last 23 years.
We are also members of the following organizations:
National Roofing Contractors Association
Roofing Contractors Association of Texas
Northeast Tarrant Chamber of Commerce
North Dallas Chamber of Commerce
Our priority objective is to furnish our clients with a roof or roofing system designed and built for their particular requirement, at the same time using the highest quality materials available and providing the most distinctive and appealing visual appearance possible.
Full written warranties will be issued to the owner at the completion of any project as we continue to work closely with some of the largest manufacturers in the nation to ensure the quality of our workmanship and materials. We have a well-trained staff that is equipped to accommodate any size project. If we can be of assistance to you or your company, don't hesitate to contact us.