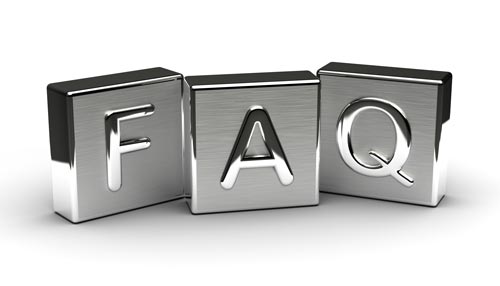 As part of Acme Roof Systems' commitment to offering exceptional roofing services, we want to make sure that our customers stay as informed as possible. To help you get answers to your most pressing questions quickly, we offer the following answers to some of the most frequently asked questions about roofing repair and contractors:
How do I check my roof for hail damage?
If your home is hit by hail during a storm, your roof could end up sustaining hail damage, such as broken shingles. After the storm has ended, you'll want to check the roof, siding, and windows of your home to look for signs of damage. Check out our tips for checking for roof hail damage.
If you feel damage may have occurred, please contact us to assess the damage so we can begin making temporary repairs necessary to keep your home watertight until your insurance company is contacted.
Do Texas roofers require a license?

Unfortunately, the State of Texas does not require roofers to be licensed. Because Texas is one of 20 states that don't require roofers to be licensed, we recommend reviewing Ken Howard, Attorney General of Texas, tips on How to Avoid Home Improve­ment Scams.
Since Texas roofer contractors cannot obtain a license, it's up to the customer to choose a dependable roofing contractor. You may find it helpful to review our article on "Choosing a Contractor" which includes important questions to ask roofers before hiring them.
Do Texas roofers offer free estimates?
Most roofing contractors provide free estimates. Acme Roof Systems offers free roof-related estimates to customers who have any roof issues that need to be addressed.
How do I know if the roof on my home has problems?
There are different ways to spot roof problems. You may notice water stains on your ceilings or walls if you have a leak in your roof. You may also see missing or broken shingles on your roof, especially after a storm or high winds. If you notice any of these signs, contact us for a damage assessment and free estimate.
If my roof leaks, does it need to be replaced?
In most cases, if your roof is just leaking in one small area, it will probably just require a roof repair. If your roof is leaking in several different places, it is more likely that your roof is showing signs of failure and will need to be replaced. The best way to determine if your roof needs to be repaired or replaced is to contact us and let us provide a complete roof assessment.
How long should my roof system last?
With the weather elements in the DFW Metroplex, a typical roof should last 15-20 years. There are several factors that will determine how many years you will get out of your roof.
This depends on the type of roof you install on your home. Certain materials, such as tile and metal, are capable of lasting for 50 years or more. Other materials, including composition shingles, will deteriorate over time, lasting approximately 15-20 years. Keep in mind that factors such as severe weather can shorten the lifespan of your roof.
How long does it take to install a new roof?
If you need a new roof installed, the amount of time this process takes can vary. We will complete most residential roofs in one day. The larger the home and the steeper the roof, the longer the project will take. Commercial roofing and industrial roof installation times will vary based on the size of the project.