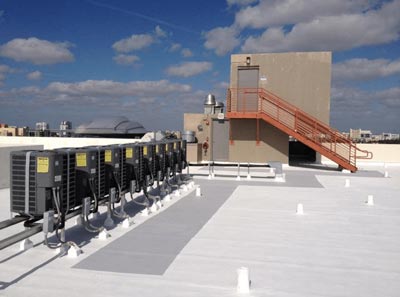 Commercial Roofing Company in North Richland Hills
Acme Roof Systems provides the highest quality and dependable roofing services in the DFW Metroplex. Our team of skilled and experienced roofing experts conduct inspections, detect and repair leaks, perform maintenance, and offer new installation and replacement services. No matter what your commercial roofing needs are, you can rely on us to help!
It is essential for your commercial building to have a strong durable roof that protects your business from water, wind, and other hazards. To accomplish this, we offer the following commercial roofing services.
Commercial Roof Replacement for North Richland Hills and DFW
Whether you have invested in a custom-made building for your business or noticed that your old roof has taken extensive damage, the team at Acme Roof Systems can help. We provide reliable commercial roofing installation for new businesses and replacement services.
Quality starts at the top, so we are determined to find the perfect roofing material to suit your business needs. Whether this means a shingled roof for a hotel to create a homey and welcoming experience or a cool roof system to help keep energy costs down, our team has the right solutions.
Inspection and Consultation with Commercial Roofing Contractors
All of our commercial roofing installation and replacement services start with an inspection/consultation so that we can understand the specific needs of your business. Once we know what you're looking for, we can suggest the right roofing material to suit your needs and ensure that your building is aesthetically pleasing.
We offer only the most trusted and high-quality materials in the trade, ensuring that your roof is built to last. We also use only the most efficient and trusted practices in the industry to ensure that your business can return to normal operations as soon as possible.
Types of Commercial Roofing Offered to North Richland Hills and the DFW Metroplex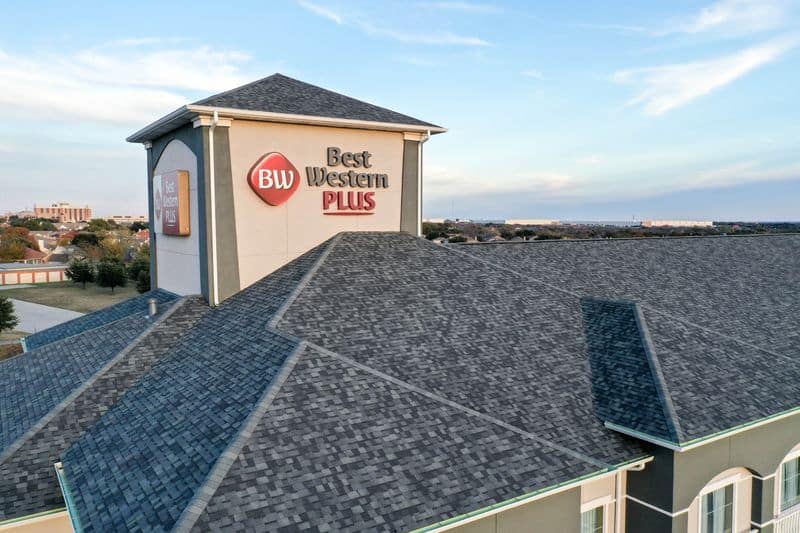 Choosing the right roofing material for your business can seem overwhelming, especially if you know nothing about the roofing industry. We'll guide you through the process so that you know the strengths and weaknesses of each roofing material to help you pick the right one for your business. We offer the following materials:
TPO Roofing
Thermoplastic Polyolefin (TPO) is a highly durable, cost-effective roping material known for its ease of installation. It is heat- and chemical-resistant, as well as energy-efficient, helping your business save money on energy costs and keeping maintenance to a minimum.
Perfect for flat roofs, TPO roofing is a single-ply roofing membrane made up of a single layer of synthetics and reinforcing scrim. Durable against the elements, it has an impressive lifespan of up to 30 years. Business owners can also expect the following benefits from this type of roofing:
Flexible Choice of Insulation: Since TPO roofing does not come with insulation, you can choose what type of material to provide insulation.
Class A Fire Rated: Fire retardant added during the manufacturing process gives TPO membranes an impressive Underwriters Laboratories (UL) Class A fire-resistance rating, providing better and more thorough protection against roof collapse in the event of a fire.
Reflective: TPO roofing is traditionally white, though it can be made in other colors, making it reflect UV rays. The reflective nature of TPO reduces heat, allowing businesses to save on energy costs during Texas's notoriously hot summers.
Modified Bitumen Roofing
Known for its durability, this five-layer roofing system is composed of the following layers:
Insulation: Used to provide an R-value thermal resistance to support the temperature stability of the roof.
Modified Base Sheets or Plies
Modified Bitumen Membranes: Factory-fabricated sheet membranes composed of co-polymer reinforced with polyester or fiberglass.
Adhesive: A waterproofing material that has either a hot or cold bonding agent.
Surfacing: Provides UV protection and stronger weather resistance.
Modified bitumen roofing was specifically designed for commercial and industrial buildings and integrated with asphalt products, giving them extra durability. It has an impressive lifespan of 20 or more years with proper maintenance and is resistant to leaks and impact damage from severe weather. It is also fire-resistant and able to withstand high winds.
You can expect the following benefits from modified bitumen roofing:
Waterproofing adhesive that makes it extremely durable against leaks.
A broad range of application methods to meet the specific needs of your building.
A wide choice of top-surfacing materials, including "cool roofing" options to improve energy efficiency.
High tensile strength for better impact damage.
Metal Roofing
Metal roofs provide several benefits for commercial buildings such as energy efficiency and unparalleled durability. They are also a low-maintenance option that can last for decades.
Metal roofing systems are made of overlapping metal roof panels or shingles fastened to the open framing or a solid substrate. These are the different types of metal roofing:
Standing Seam Metal Roof: Also known as a "concealed fastener roofing system," these roofs make use of panel seams that are fastened to a solid roof deck or open framing using concealed clips or flanges.
R-Panel Metal Roofing: This style of roofing uses sealed exposed fasteners that penetrate each panel to hold it in place.
Batten Panel Metal Roofing: Panels are secured with concealed fastener clips for clean, uninterrupted lines.
Double Rib Metal Roofing: An exposed fastener panel designed as an affordable option with great durability. This metal roofing type is often seen for agricultural buildings such as barns.
Bermuda Panel Metal Roofing: This type of metal roofing uses interlocking horizontal metal roof panels that provide an old-world aesthetic. They are installed from eave to ridge with concealed fasteners and clips.
Metal Spanish Tile: Offers the natural beauty of clay tile roofing with the lightweight durability of metal.
Metal S Tile: Creates a clean, crisp appearance and uses eave-to-ridge panel installation to help ease installation without sacrificing appearance or durability.
Commercial Roof Repair
Leaks that go undetected can become a major issue and cost your business a lot of money and time. Acme Roof Systems can help check for leaks in your roof and perform necessary repairs to prevent further water and structural damage.
These signs could mean you have a roof leak:
Stained ceilings or walls
Visible damage to roof or flashings
Odor or mold
Higher energy bills
Puddles forming inside of your building, especially after heavy rain
Commercial Roofing Repair Services
Over time, your commercial roof will experience normal wear and tear which will require prompt repairs. Whether your roof has sustained minor water damage or severe damage due to weather, our team is here for you.
Our commercial roof repair services start with a complimentary roof inspection to get a clear picture of what needs to be done. We then work with you to ensure that all repairs are done promptly without disrupting your normal business operations.
Commercial Roofing Maintenance Services
Routine maintenance of your commercial roof is the best way to ensure that it remains in top condition throughout its lifespan. Acme Roof Systems offers commercial roof maintenance to ensure that there is no gap in the protection of your roof and to help extend its lifespan.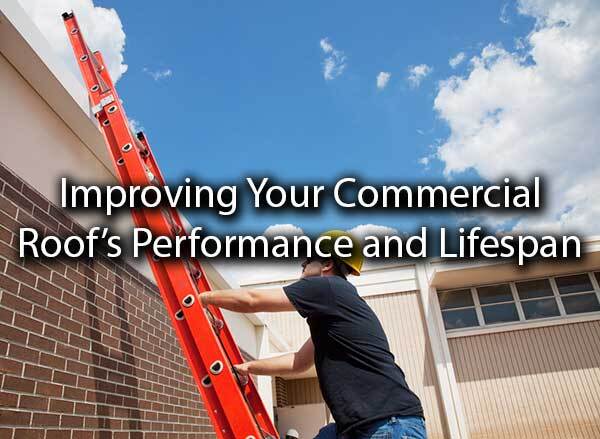 Our commercial roof maintenance involves a yearly inspection where one of our certified roofers will come out to check for leaks, and minor damages that need to be repaired to prevent further damage, and clean the roof off of any debris that may have been collected there throughout the year.
On top of that, we also offer roof inspections after major storms, to ensure that your roof hasn't sustained any major damage and address issues before they can turn into catastrophic problems.
Protect Your Business With Unparalleled Commercial Roofing in DFW
Acme Roof Systems can help you with all of your commercial roofing needs, whether that be a new installation, repair services, or maintenance. Contact our team today for more information or to schedule your complimentary roof inspection.
More Resources