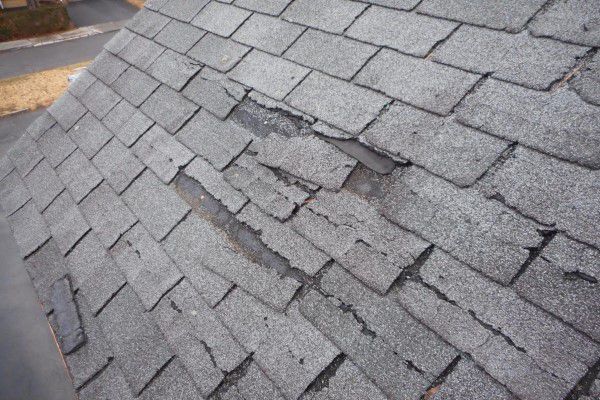 North Texas is renowned for its extreme weather. Severe thunderstorms pop up in an instant, darkening the sky, shaking the earth, and wreaking havoc on your roof. Damage from hail and other storms is one of the most common causes of roof issues in the North Richland Hills and DFW area.
After a severe storm, every homeowner should check their roof for signs of hail damage. While it may not seem like a big deal, small damage can quickly lead to more serious problems such as a roof leak, harming not only the integrity of your roof but also damaging your home's interior. The experienced professionals at Acme Roof System can inspect your roof and offer reliable repairs to ensure that it can handle the next storm. Here is more information on our hail damage roof inspection and repair services.
What Makes North Texas Hail Storms and Severe Weather Dangerous?
In 2020, the state of Texas experienced 601 severe storms that produced hail. Hailstones are destructive to homes and the damage that comes as a result varies depending on the size and speed at which they fall. From dents in siding to major gutter damage to cracked shingles, hail can cause costly damages. Below are the factors that determine how severe damage from a hail or other severe storm is going to be for your roof.
Wind Speed
During severe weather or hail storms, wind direction and speed can majorly impact the velocity of hailstones and debris. The higher the speed of the wind, the harder the impact of the hail or debris on your roof.
Size and Density of the Hailstone
The size of the hailstones directly relates to the degree of damage at impact. Even hailstones as small as a pea can crack a shingle or leave a hole in a roof if they are extremely dense. Other hailstones may be as large as a softball but have a lot of air pockets, which can cause them to shatter on impact, lessening the damage.
How to Identify Hail Damage on a Roof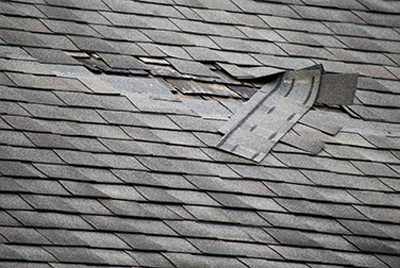 After severe weather, perform a visual inspection of your roof. Even if your neighbor's house appears unmarred, it doesn't mean that yours is in the clear. Hail doesn't fall in a set pattern, so it's important to check your roof every time.
What Are the Visual Signs of Hail Damage?
When inspecting for hail damage, don't just check your roof, but also all around your property. Signs that damage could have occurred on your roof include:
Plants being stripped of their leaves or the bark on trees or bushes being cracked.
Dents on your car.
Damaged outdoor air conditioning units.
Evidence of damage to the exterior of your home or other outdoor structures.
Evidence of Hail Damage on Asphalt and Composition Shingles
Random damage on your roof with no discernible pattern.
Loss of granules or exposed roof felt.
Signs of impact damage.
Parts of the shingle that appear shiny.
Areas that look bruised or that are soft to the touch.
Evidence of Hail Damage on Wood Shingles
Large areas of damage that have no discernible pattern.
Splits in the shingles that are brown or orange.
Split in the shingle that creates sharp corners or edges.
Splits in the shingle that have no evidence of deterioration around the edges.
Impact marks or evidence of dents.
The Importance of Roof Inspections for Hail Damage
While the following signs are evidence of hail damage, to the untrained eye, aging roofs can give off the appearance of a roof that suffered from hail damage. For example, older asphalt shingle roofs will have evidence of granule loss, or the individual shingles may appear rough around the edges. The major difference is that a majority of the roof will look like this, while actual hail damage will be random.
Due to this reason, homeowners need to schedule an inspection with a trusted roofing professional to ensure that their roof is getting the exact care they need. A roof that has suffered from hail damage may need only a few shingles replaced while an older roof may need a complete replacement.
What Is Imitation Hail Damage on a Roof?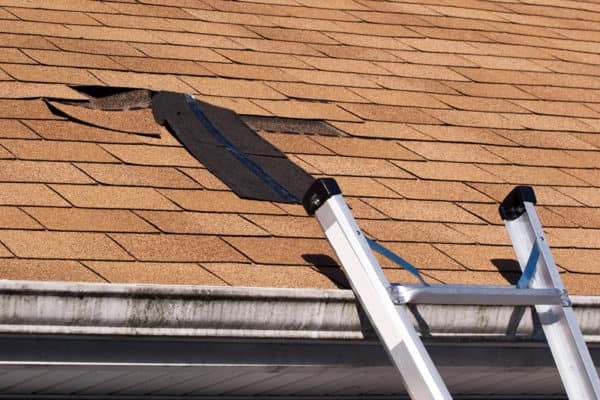 As mentioned earlier, some types of roof damage can give off the appearance that a roof has been damaged by hail. In reality, the damage was already there before the storm struck and the homeowner didn't know. In these cases, homeowners may be looking for their insurance companies to help pay for the hail damage but their claim will get denied, as the damage wasn't a result of the storm. Imitation hail damage to a roof can be as follows:
Blistering or cracking caused by UV degradation from the sun
Scuffing damage when the shingles were installed
Wind damage
Debris impact damage
Worn-out shingles due to age
Once the damage has been correctly identified, a roofing contractor can provide a better estimate of how much the repairs will cost and advise you on the next steps.
Will Homeowners Insurance Cover Hail Damage Roof Repair?
Most homeowners' insurance policies will include coverage for hail damage. If you are ever uncertain whether your homeowner's insurance does, you can always check your insurance policy or ask your insurance company upfront.
What Is the Claim Process for Roof Hail Damage Repair?
Here is a step-by-step guide on how the insurance process typically works for roof hail damage repair:
Invest in a roof inspection: This step should be done by a reputable roofing contractor. They will be able to help you file the claim and give suggestions on what repairs are needed.
File a claim with your insurance company: If there are signs of storm damage, you will need to contact your insurance claims department to file a claim.
Inspection by the insurance adjuster: An adjuster from the insurance company will come out to inspect the damages to your roof to ensure that they match your claim. At this point, you will want a trusted roofing professional to meet with them, to ensure that the value they include is fair and meets market value. While we cannot represent you on your claim, we can always act as a valuable resource.
Review the insurance paperwork: Once the insurance adjuster inspects your roof, you will receive paperwork from your insurance company outlining the damaged items.
Sign the insurance contract & select the materials: Once your claim value has been settled, you can reach out to your trusted roofing contractor and sign the contract to get your repairs started.
Is There a Way To Protect Your Roof Against Hail Damage?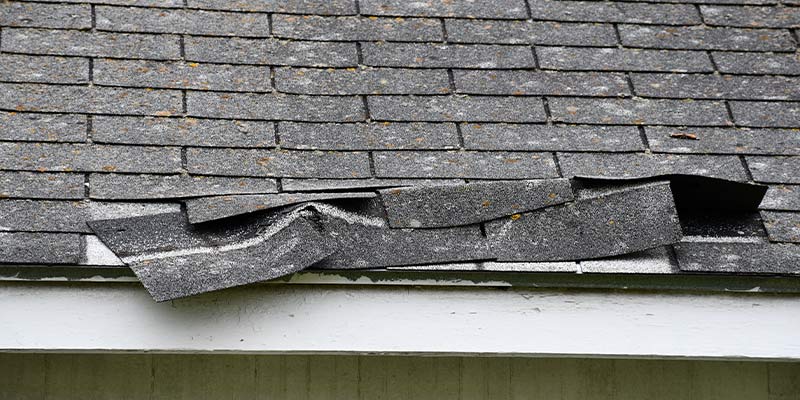 Unfortunately, unlike a car, which you can hide in a garage, there is no way to fully protect your roof from hail damage. There are ways, however, to minimize the damage. For example, you can save a lot of time and money by ensuring the shingles or other roofing material installed on your roof can handle severe weather. Not only do higher quality shingles protect the investment of your roof, but they also can lead to discounts for your homeowner's insurance.
What Are the Benefits of Impact-Resistant Shingles?
Impact-resistant shingles are a class-four shingle, which is the roofing industry's highest rating for weather ability. These shingles are made out of a variety of materials, such as a mixture of resin and plastic. They offer the following benefits to homeowners:
Protection from severe weather: Impact-resistant shingles are designed to be flexible, absorbing impacts from debris and hail without cracking.
Cost savings: As mentioned earlier, impact-resistant shingles are extremely durable and have a long lifespan. Because of this, they can lead to an increase in the home's value and insurance discounts.
Versatile design: There are a lot of options to choose from when it comes to both the style and color of impact-resistant roof shingles.
Need Hail Damage Roof Repair?
Acme Roof Systems is dedicated to ensuring that all homeowners have access to unparalleled roof repairs. Whether it is severe weather that has threatened the integrity of your roof or old age, our team can help strengthen and repair your roof. We offer unparalleled roof maintenance, roof repair, and roof replacement services. On top of that, we also offer home restoration services for homes that have been severely damaged by severe weather, natural disasters, or fires. Contact us today for more information on our services or to schedule your roof hail damage inspection.
Hail Damage Roof Repair FAQS
Should You Replace a Roof With Hail Damage?
It depends on the extent of the damage done to your roof. In some cases, the damage may be minor and only involve replacing a few shingles. In other cases, the damage may have caused severe leaks that signal the need for a full replacement. Our team will not know unless we can fully inspect your roof.
What Does A Roof Look Like After Hail Damage?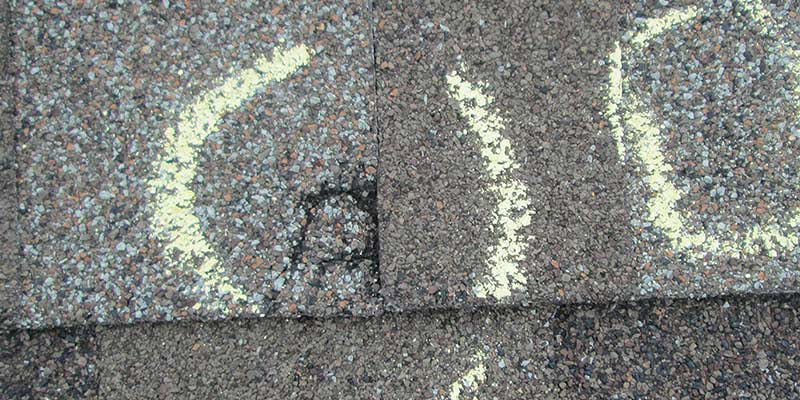 There are several physical signs that damage has been caused to your roof by hail. These are as follows:
Cracks on shingles
Fractured or broken shingles
Dents or impact marks on the roof
What Size of Hail Can Cause Damage to a Roof?
Hailstones can come in all shapes and sizes. They often range from a pea-sized, ¼-inch diameter to ones the size of a softball. While it may seem like smaller pieces of hail wouldn't be able to cause a lot of damage, this isn't true. Smaller-sized hail has less density but also travels faster and can leave small dents or chips on your shingles.