Kitchen Renovations
A kitchen says a lot about the style and personality of a household, and with a kitchen remodel, you can make sure yours is saying the right things about you. At Acme, we can help you create the perfect kitchen for your individual needs. From installing new beautiful countertops to making room for more efficient appliances, Acme can do it all. Our design team will take your wants and needs into consideration and use them as the cornerstone for the new design. Contact us today for all your indoor remodeling needs.
Kitchen Remodel Design
Acme's design team can help you create the perfect kitchen to match the rest of your gorgeous home. With features such as beautiful new tile floors, redesigned countertops, freshly painted cabinets, and new cabinet installations, Acme can create a stunning kitchen for you. We work hard to combine the perfect elements to create the kitchen of your dreams. Whether you want a modern and luxurious kitchen or a classic, rustic kitchen, our professional design team can design the perfect kitchen to match your vision. Call Acme and allow us to help you bring your dream kitchen to life.
Kitchen Layout
One important element of designing your dream kitchen is practicality. Avoid bumping into family or guests as you cook by opening up the walkways to allow for easier traffic flow. Having your appliances set up in the classic work triangle will help keep everything within arms reach. Your sink, refrigerator, and stove will be near each other, allowing you to easily transition from one task to another. In addition, expanding your countertops or installing an island will help provide more space to prep food. Whatever layout changes you're looking to make, we can make it happen.
Kitchen Expansion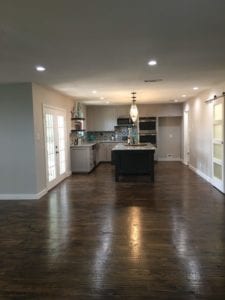 At Acme, we can expand the size of your kitchen in order to give you more room to work in. This often involves a kitchen wall removal, which allows us to take space out of another room in order to add room to your kitchen. We may then build a new kitchen wall, or we may leave it as-is to allow for easy access to the next room. Our team can also rework the items within the kitchen to help maximize space and give the kitchen a more open feel.
Kitchen Backsplash Installation
Spruce up your kitchen with a kitchen backsplash tile installation. These beautiful little tiles can come in a variety of colors and, they create a focal point between your cabinetry and countertop. They are easy to clean, resist mold growth, and give you more options for your kitchen decorating.
Kitchen Cabinet Renovation
Do not neglect your cabinets when doing a kitchen remodel. Acme offers superb kitchen cabinet renovations. We can refinish them to make them look brand new, repaint them to match the new style and look of your remodeled kitchen, or replace older cabinets that are suffering from cracks and mold.
Pantry Remodel
Add more storage space to your pantry by investing in Acme pantry remodel services. We can add in more shelving, expand the width of your pantry, and even install rotating shelves to give you more options for storage.
North Richland Hills Kitchen Remodeling Services
No matter how you decide to remodel your kitchen, you will need a team of experts to help you do it right. The team at Acme are expert when it comes to kitchen remodeling and roof replacement services. We can ensure that all of your needs are met while not sacrificing aesthetics. Contact us today so that we can begin designing the kitchen of your dreams.