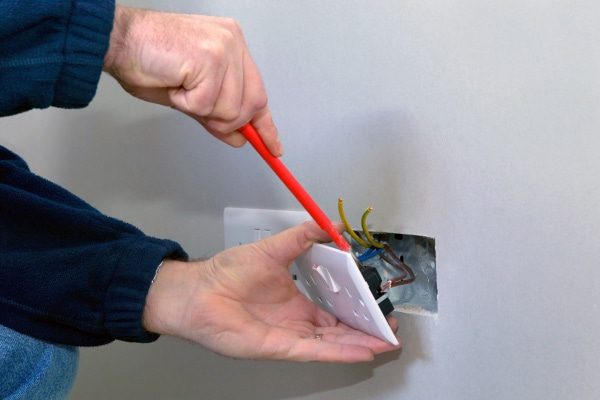 Wiring and Plumbing Services
Out-of-date wiring or plumbing, walls being knocked out, and rearrangement of sinks, bathtubs, or other appliances may all require an experienced rewiring or plumbing service. If these changes are not made, you may experience serious plumbing or electrical problems that can put your home at risk of a major leak or electrical disaster.
At Acme, we provide complete remodeling services for our clients, including electrical wiring and plumbing services. This saves our clients from the hassle of looking for an outside service and ensures that the rewiring and replumbing are done correctly. Our experts know what it takes to create a beautiful room combined with efficient plumbing and electrical wiring. Contact us today for more information on our home remodeling services.
Rewiring House
Acme understands the importance of having updated wiring, which is why we inspect the wiring of our client's homes when doing a remodel. This ensures that we can provide our clients with the perfect set up to allow for convenience and the introduction of newer and better pieces of technology.
Rewiring is also extremely important for rooms that are being expanded, or that are being completely redone. Instead of using countless powerstrips to create an easy access point to power, we rewire the room and put outlets in easy-to-reach locations. This way, our clients will never have to worry about tripping over various wires or struggle to get power to their much-needed appliances or electronics.
What does Rewiring a House Entail?
Acme understands that working with electrical devices can be dangerous. That is why we use only techniques that make safety a priority. We do not cut corners, as doing so not only puts our team in danger but your household as well.
Before we do anything, we perform a full electrical assessment of your home. We look for cracked, broken, and outdated outlets. If we find these, we make sure to replace them, creating a safer place for plug-in appliances and electronics.
Once we have performed our inspection, we begin the rewiring process. Everything from light fittings to cables, switches, and sockets have to be removed and replaced in order to create a safer home environment. We also ensure to remove any wall decorations and electronics so that they do not get damaged during the rewiring process.
Rough-In Plumbing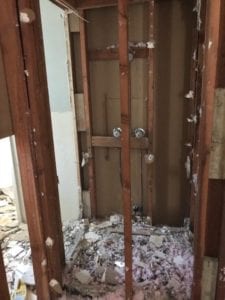 As we remodel your kitchen or bathroom, we may have to rough-in some plumbing. Plumbing rough-in refers to rerouting plumbing so that it connects to new appliances. We do this by boring holes into all water supply pipes and drain pipes' studs and framing members to create optimal space for running new pipes through. We ensure that all connections are secure in order to prevent a future leak. Once the plumbing rough-in process is complete, we can install any new sink, faucet, and water-based appliances. Here are some more details about our rough-in plumbing services:
Bathroom Plumbing Rough-In
If we need to replace or change the location of your bathroom sink, shower, or toilet, Acme can expertly redo the plumbing. We ensure that your newly remodeled bathroom is able to handle the newest innovations for showers, sinks, and toilets. This is accomplished by installing new freshwater, drainage, and sewer line, thus eliminating the risk of leaks from worn out or damaged pipes.
We also re-run pipes to accommodate a larger bathroom or a missing wall. By taking care of this process ourselves, we prevent you from having to find a plumber to take care of it for you. Our experts know what it takes to create a safe and efficient plumbing system.
Kitchen Plumbing Rough-In
As we remodel your kitchen, we work hard to ensure that we create a beautiful area that is also practical. This may involve changing the position of your sink or other appliances. When we do this, we ensure that your drainpipe is located in a central location to allow for optimal access and less build-up. We also provide rerouting services for your hot and cold water supply as necessary. All of our kitchen rough-in plumbing services are handled with extreme care and caution.
Electrical Wiring and Rough-In Plumbing Services – Dallas/Fort Worth
Acme is dedicated to providing quality service that places you and your family first. This is why we use only the safest and best techniques in the industry. While other companies may do it faster, we do not sacrifice quality for speed. We take no shortcuts, as our goal is to give you and your family a safe and more efficient home to live in. Contact us today to get started on your home remodel.