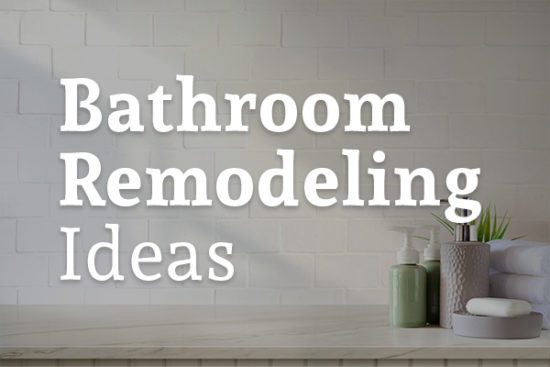 Remodeling your bathroom is an exciting project that adds value to your home and lets you show off your unique flair. Adding in new features such as a floating vanity, a new mirror, or new tile floors are great ways to update your bathroom and keep it looking fresh. However, sometimes heavy renovations require a lot of upkeep. If you are trying to get the most out of your home renovations without spending all your time maintaining them, consider using these bathroom remodeling ideas:
Low Maintenance Design Options
Tile Floors and Walls
Tile flooring and walls not only look unified, but they are also easy to maintain. Tiles are less likely to hold onto sludge and grim, making it easier to remove. Water also doesn't soak into tile floors very easily, making them easy to dry and resistant to mold growth. And, for those who are worried about their feet getting cold or the floor being slick after a shower, you can always place a bathmat on the flooring to solve this problem. A machine-washable bath-mat that can be thrown in at any time will also keep up with the low maintenance theme.
Quartz Instead of Marble
When it comes to picking out the material for your sink counter, quartz and marble often come up. While marble is a gorgeous looking material that is on the cheaper end of the scale, it stains pretty easily. It is also not very sturdy and chips easily, leaving your sink as a potential hazard for someone to accidentally cut themselves.
Quartz, on the other hand, is a more durable material that is very easy to clean. Its stain-resistant surface allows it to combat dirt and grime, giving off a beautiful sheen from just one wipe. While it is a bit more expensive, its longevity definitely offsets the cost. Not to mention, it looks beautiful too.
Stainless Steel Faucets
It is easy to get caught up in prices during a remodeling project. However, lower-priced items aren't always the best option. Stainless steel faucets, while they may cost more initially, usually make up the difference with their durability and easy maintenance. Stainless steel faucets are also made at a higher quality, helping them to remain airtight which reduces the risk of leaks.
Energy Efficiency
Another way to make the most out of your bathroom remodeling is to consider energy-efficient options. For example, using a tankless water heater instead of a tanked one can cut down on electrical costs. Low flow toilets and faucets only use the water that is necessary to get the job done, without the risk of wasting water. This can significantly cut back on your water bill each month.
Natural Lighting
A brighter bathroom naturally looks bigger to the eye. Consider adding windows and skylights to help boost the natural lighting in your bathroom. You can add your new natural lighting with reflective finishes and surfaces to help evenly distribute the light. Not only will natural lighting help you save money on energy costs, but it is also easier on your eyes than artificial lighting.
Remodeling your bathroom is a big job that you shouldn't have to do on your own. Contact Acme to get a professional bathroom remodel that not only looks good but is efficient as well. We will help you install new flooring, new vanities, and make your bathroom as unique as you are. For a consultation, call Acme today!