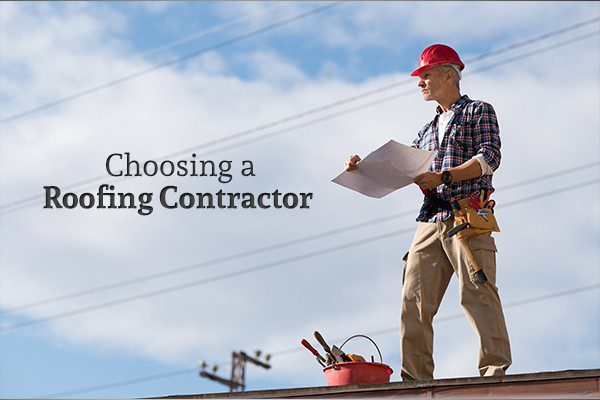 Getting a roof repaired or replaced is a large investment, so it's important that you get the job done by the right roofing contractor. It takes careful consideration and research to choose a good roofing company. Here are some tips to help you choose the right roofing contractor to repair or replace your roof:
1. Read Local Reviews
A good place to start is to read customer reviews of local roofing contractors. A couple of good review sites to check include Yelp and Google My Business. Once you find a few roofing contractors with good reviews, you can move on to the next steps.
2. Check their BBB Rating
A good business will always be registered with the Better Business Bureau. Check for a high BBB rating and whether or not the company's been registered with the BBB for a long time.
3. Look for Association Memberships
All roofing organizations require that contractors meet strict standards in order for them to retain membership within the organization. If the contractor belongs to one or more roofing associations, you can be sure that they're dedicated to meeting high standards for their work.
4. Ask for References
Roofing contractors should be able to provide you with references. Ask them for 3-5 references and make sure that they check out.
5. Make Sure that they're Insured
Your roofing contractor should always hold general liability insurance. Some states (such as Texas) don't require roofing contractors to be insured, but a good roofing contractor will make sure to be insured anyway.
6. Find a Contractor that's Up-to-Date on the Latest Practices
Roofing technology and best practices are evolving all the time. To make sure that your roof is constructed as well as possible, you need to make sure that your roofing company is always staying up-to-date on the changes within the industry.
Another important element of staying up-to-date is making sure that they are code-compliant. Your roofing contractor should review any changes to local city codes and make sure that they are in compliance with these codes.
7. Ask about Roof Warranties
Your roofing contractor should offer warranties on their work. Ask about these warranties ahead of time. You should receive a written copy of your warranty and what it will and will not cover. Your roofing company should go over it with you to make sure that you understand what it entails.
8. Make Sure They'll Follow the Manufacturer's Specifications
Specifications for roofing materials are there for a reason. You should make sure that your roofing contractor plans to follow the manufacturer's specifications so that your roof does not end up improperly installed.
9. Ask for a Written Estimate
After inspecting your roof, the roofing contractor should provide you with a written estimate. You should always be notified of any changes to the estimate ahead of time – such as if the damage is more extensive than initially thought.
10. Beware of "Fly-By-Night" Roofers
There's a certain kind of roofing contractor that you should always be wary of; they're often called "fly-by-night" roofers. These kinds of roofers will do shoddy work on your roof and then disappear with your money without a trace. People fall victim to these kinds of scams all too often, so you should always be cautious before hiring a contractor. Here are a few indications that a roofing contractor may be a "fly-by-night" roofer:
They knock at your door right after a storm
They won't present proof of liability insurance
They don't have an online presence
They claim that they can handle your insurance claim for you
They pressure you to sign a contract before the insurance estimate is back
They quote you a very low price for the repair or replacement
They don't have any references
If you're looking for a reputable roofing company to repair, replace, or re-shingle your roof, contact Acme Roof Systems, Inc. They meet every standard for a high-quality roofing contractor, so you can be sure that they will perform work on your roof correctly. Contact them today to ask them about their qualifications and to schedule a roof inspection.