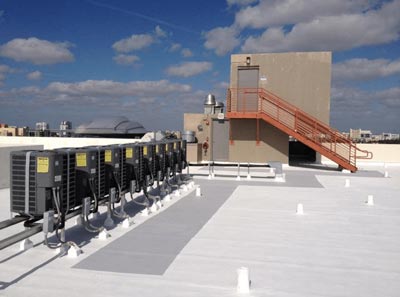 When it comes to your business, there are a plethora of things you must manage. Whether it is setting up your business for that day's success, hiring employees, handling customer concerns, developing new products or services, or handling finances, it can be difficult to juggle it all. This becomes even harder when your business's roof needs to be replaced or you need to install a new type of roof for a whole new building.
There are a wide variety of different roofing materials that can be used to make an industrial or commercial. From traditional tile roofs to metal roofs, each material offers different advantages that should be considered when choosing the right material for your building's needs.
Acme Roof Systems is the most trusted source for roof installation, repair, and maintenance services in Dallas-Fort Worth and North Richland Hills, Texas. We strongly believe in educating our clients to make them feel confident in their decisions regarding their roofing needs. One of the industrial roofing materials we get a lot of questions on is TPO roofing. This article will provide insight into this popular roofing material and help you decide whether it is right for your building.
What Is TPO Roofing?
Thermoplastic polyolefin (TPO) is a single-ply white membrane roofing material that can be used on both commercial and residential buildings. It is made up of a single layer of synthetics and reinforcing scrim. TPO can only be installed on flat roofs or a low-slope dormer.
TPO roofing membranes are manufactured in sheets that are available in different sizes: 5, 10, 12, and 20 ft. wide. The sheets are rolled up and taken to the facility for installation.
The white membrane of TPO reflects heat instead of absorbing it, allowing the building to remain cooler throughout the day. Hence, TPO is the perfect choice for hotter climates such as Richardson, Texas, and the DFW metroplex.
Don't want a white roof? No problem! Advancements in TPO roofing have opened a world of color opportunities without sacrificing the benefits; here are a few of the options available:
Desert Tan
Colonial Red
Electric Blue
Goldenrod
Terra Cotta
Understanding the TPO Roofing Installation Process
All TPO roofing starts with preparing the existing substrate. This is done by cleaning the area or by removing the existing roof (for a replacement). Next, the owner of the commercial building can then choose a type of insulation to be installed. The following types of insulation work best with TPO Roofing:
Polyisocyanurate: Has a high R-value providing better energy savings for the building.
Expanded Polystyrene: Has the highest R-value per dollar and is water-resistant.
Extruded Polystyrene: Recognizable due to its blue, green, or pink color. This type of insulation is popular as it comparatively falls in the middle price range. It is also semipermeable.
The insulation is installed and the TPO membrane is attached to the cover board with a bonding adhesive or is mechanically fastened. Lastly, the seams of the membrane are welded together using a hot-air gun.
How Long Does TPO Roofing Last?
TPO roofing has a lifespan of around 25 years when the membrane is installed properly. However, there are factors that can decrease the lifespan of the TPO membrane. These factors include:
Quality of the installation
Climate of your area (consistent inclement weather may wear it down faster)
Amount of direct sunlight the roof receives
What Are the Benefits of TPO Roofing?
TPO Roofing has a wide range of benefits that make it a popular choice for industrial buildings. Some of these include the following:
More choices of insulation
Class A Fire Rating
Helps cut down on energy costs
Keeps the building cooler
Is TPO Roofing Right for Your Industrial Building?
You should make the best decision for your commercial building to help save on energy costs, protect your interior, and ensure that you can focus on the day-to-day operations rather than worry about the health of your roof. Acme Roof Systems is dedicated to providing high-quality roofing services to our clients of North Richland Hills, Texas, and across the DFW Metroplex. Contact our team today for more information on our TPO roofing installation services or to schedule a consultation.