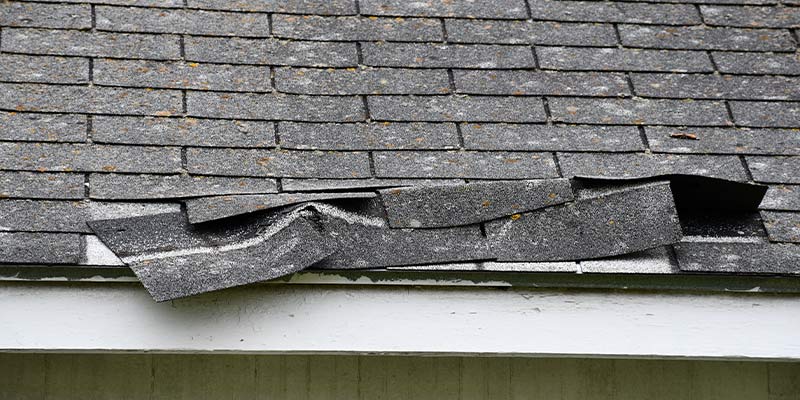 Between April and June, Northern Texas goes from its usual cheery sunny days to moments of intense thunderstorms. With high winds, damaging hail, and the occasional tornado, these storms make their presence known. Many families choose to hunker down in their homes, silently praying for the storm to pass without damaging their home or vehicles. When the storm has passed, Texans emerge to inspect their yards, cars, and homes.
At first glance, it may seem that your home has weathered the storm unscathed, but this may be because you don't know what to look for.Thankfully, the dedicated roofers at Acme Roof Systems are here to help. We have been North Texas's go-to resource for all your roofing needs since our founding in 1995. To honor our commitment to serving our community to the best of our abilities, we have created this Roof Storm Damage Inspection Checklist so you can measure the state of your roof after a severe storm. As always, if you want a professional roofing inspection or need roofing repairs, our team is only a phone call away.
What Types of Damage Can Severe Storms Cause a Roof?
Your roof is susceptible to sustaining visible or non-visible damage caused by the various elements of a severe storm. These include the following:
Wind Damage
High winds from severe weather can wreak havoc on your roof and property. They can pick up debris such as fallen branches, uproot trees, and tear down power lines.
Beyond that, high winds can pull on shingles, causing them to come loose or even completely ripping them off your roof. Higher speed winds of over 60 mph can damage or tear away new shingles.
Severe thunderstorms have the potential to create wind gusts of between 40 to 60 mph. When a tornado is involved, wind speeds can increase to as much as 100 mph and result in significant damage that stretches for miles. Often, strong winds don't hit the roof straight on, causing them to impact shingles at their most vulnerable parts. This can result in them curling, cracking, or being completely removed. 
Impact Damage From Debris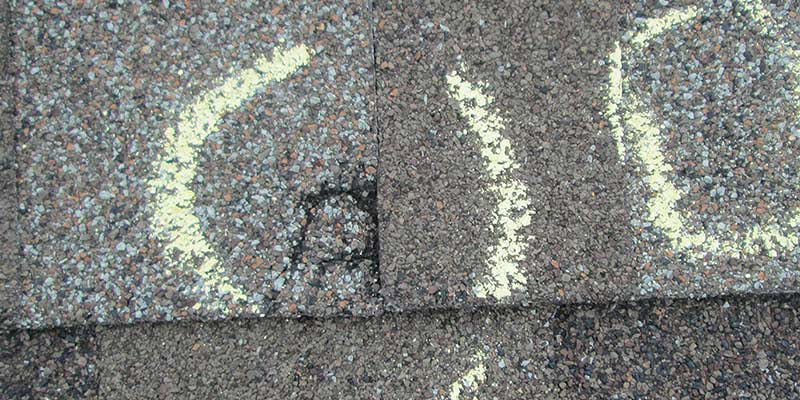 Massive tree limbs, shingles, leaves, and other debris that have come loose in the storm can cause major damage to your roof. Not only can the impact cause cracks or dents in the shingles or roofing material, but the debris can get stuck on your roof and gutters. This blocks rainwater from properly draining off your roof, resulting in pooling water. This can lead to devastating damage such as leaks, mold, and algae growth, or damaged gutters due to being overloaded.
If the debris is not removed from your roof promptly, it can cause your shingles to prematurely fail as the dirt and grime eats away at the material and causes it to rot or rust (for metal roofs.)
Standing Water
As mentioned earlier, if a roof is unable to drain the water properly it will pool and sit. Over time, this can lead to the chemicals in the water eating away at your roof's material, lead to mold and mildew growth, and significantly increase the risk of a roof leak.
To avoid this, it is best to follow a routine roof cleaning maintenance schedule to ensure that there are no standing puddles and that all debris is removed from your roof.
Hail Damage
Hailstones vary in size and the severity of their impact on your roof depends on the size and direction/speed of the fall. Most hailstorms will create hailstones that can range from pea-sized to ones the size of a softball. While smaller pieces of hail may have less density, they still have a strong impact due to the wind being able to hurl them faster. They can create small dents or cracks in older shingles. Larger hailstones can leave major dents, break off shingles, or completely fracture shingles and leave the underlayment exposed. 
Storm Damage Checklist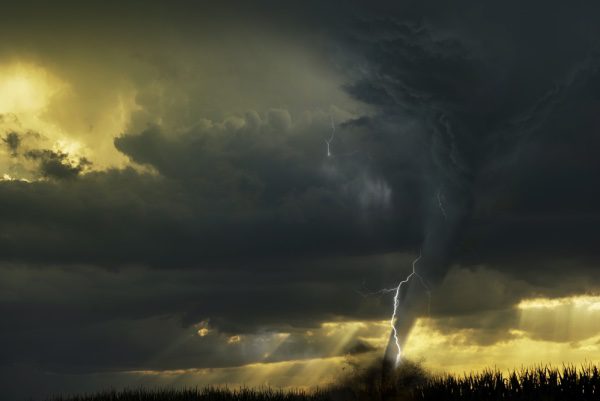 After your area has experienced severe weather and you are sure the storm has completely passed, you will want to check your roof and home for damage. You can accomplish this by following the provided checklist!
Acme Roof Systems Safety Tip: Never Attempt to Climb on Your Roof
It may be extremely tempting to go onto your roof to check the full surface for signs of damage, however, this is extremely dangerous! We caution you against taking this approach, as the risk of falling is very high. Our roofers have been specially trained to handle walking on a roof and use specialized safety equipment and practices to reduce the risk of an accident.
Step 1: Perform a Visual Inspection Of Your Roof
From the ground, walk the perimeter of your home and conduct a visual roof inspection. You will want to take note of any obvious signs of damage, such as
Flashing protruding parts are dented or cracked
Shingles are curling
There are shingles missing
There are signs of granule loss
The gutters are coming loose, are damaged, or have a lot of debris
If you notice any signs of damage from the ground, you will want to contact your trusted roofing specialists at Acme Roofing Systems right away. Our roofers will come out and do a more thorough inspection of your roof and share with you our findings and recommendations for repairs.
Step 2: Inspect the Exterior of Your Home and Property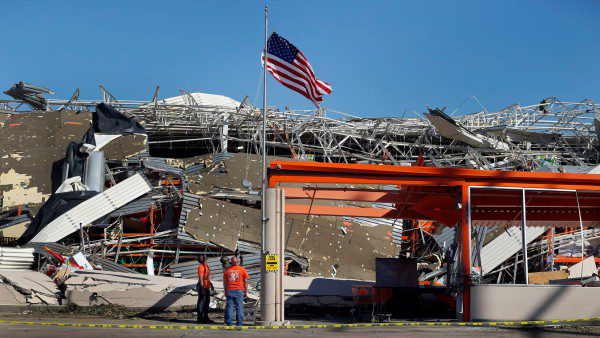 If the areas of your roof that you can see from the ground look okay, this does not mean that your roof didn't sustain damage. It could be that the damage is on the centermost parts of your roof. However, you can get a pretty good idea of whether your roof sustained damage by checking the area around your property for signs of damage.
Obvious signs of storm and hail damage are as follows:
There are shingles around the perimeter of your home or on your property
There are shingle granules near the ends of the downspouts of your home's gutters
There are signs of damage to your home's siding such as dents, cracks, or chips
Your vehicles sustained hail damage
There are broken tree limbs and other debris scattered around your yard
There is damage to other outdoor structures, such as a pergola, shed, or deck
Step 3: Contact Your Local Roofer
If you notice any signs of damage, whether that is to the roof itself or other areas around your property, you will want to call your trusted roofing company. A licensed and insured roofing contractor will help you get a clear understanding of the damages your roof suffered and help you with the insurance company once you turn your claim in.
Acme Roof Systems Safety Tip: DON'T FALL FOR SCAMMERS!
Unfortunately, individuals looking to make a quick buck often set up shoddy roofing companies and then go door to door offering repair services after a storm. If one of them comes to you, do not accept their services. They may be offering to do it cheaper than the other guys but oftentimes, they will take your money, do a poor job, and then leave without a trace. This only leads to more headaches, lost money, and more expensive repairs down the road. Only go with a trusted roofing company that your community knows.
Acme Roof Systems will always be available to the residential and commercial clients of the Northern Texas Area. We offer complimentary roof inspections to ensure that we get a clear picture of the damages so we can give the best action plan for moving forward. We know that quality starts at the top and your roof is the defender of your home and family against the elements.
Step 4: Contact Your Home Insurance Provider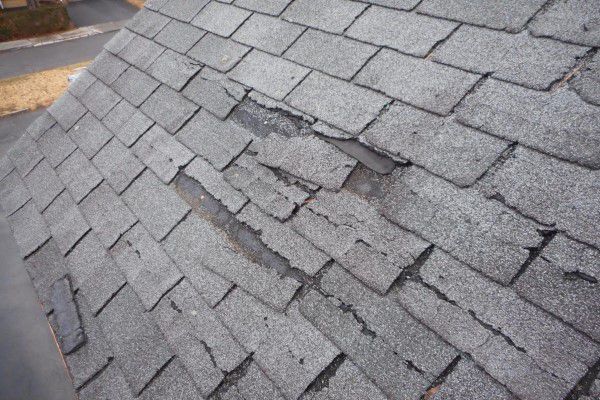 Most homeowners insurance in the Texas area offers hail damage and storm damage coverage. The reason why you want to do this step after having a trusted roofer inspect your roof is that the insurance company will try to give you the least amount of coverage possible. While they are there to serve you, they are a business. With an inspection in hand, you will be able to tell your insurance company exactly what your roof needs and what caused the damages. They can't argue with the experts.
Step 5: Schedule an Onsite Inspection With the Insurance Adjuster
Most insurance companies will insist that one of their adjusters inspect the damage. This is understandable, as they are trying to get a clear picture of what it is they'll need to cover. Let them know, though, that you would like your chosen roofing contractor to be there for the inspection. The team at Acme Roofing is glad to guide them through the damages we see and ensure that they do not miss or omit anything from the insurance estimate.
Severe Storms Are Stressful But Getting Hail Damage Roofing Repairs Doesn't Have to Be
Acme Roof Systems proudly provides the North Texas area with all of their roofing needs. From being there when severe storms leave their mark on your roof to handling roof replacement services, you know the roofers at Acme Roof Systems will be there. We truly love our community and strive to ensure that every home and business has a roof that can withstand bad weather. Contact our team today for more information on our roofing services or to schedule your complimentary roofing inspection!