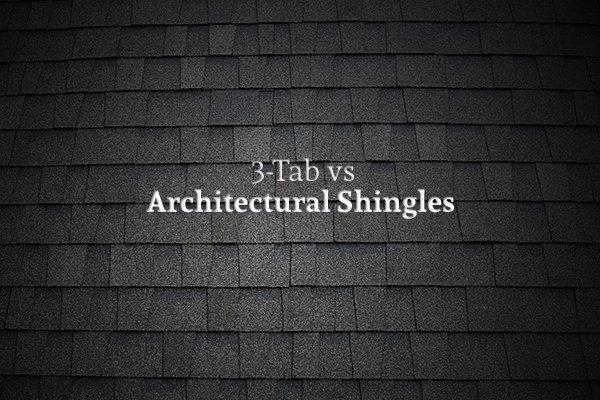 When it's time to get a new roof for your home, you'll soon come to realize that you have a lot of different roofing options to choose from. Do you want a metal roof or shingles? If you choose shingles, do you want cedar shakes, slate, clay, stone-coated steel, or asphalt shingles? If you choose asphalt shingles, do you want 3-tab or architectural shingles?
One of the more popular options nowadays is asphalt shingles because they provide great aesthetic appeal and protection without the large price tag of other kinds of roofing options. But once again, you still have one more main choice after you choose to go with asphalt shingles: 3-tab or architectural? Here are the properties of each so that you have an easier time deciding:
Shingle Appearance, Size, and Shape
3-tab shingles are usually 36-inches long and are divided into three, 12-inch segments (hence the name) which makes each shingle appear to be three. These shingles lay flat against the house and are all uniform in shape and size.
Architectural shingles, on the other hand, have a more dynamic look to them. They come in a variety of sizes and are layered over each other to create a more eye-catching design.
Thickness of the Shingle
Architectural shingles tend to be thicker than 3-tab shingles, and therefore weigh more. They often weigh around 1.5 times what 3-tab shingles do.
Shingle Lifespan
3-tab shingles may be cheaper in the short-term, but they can end up costing you more in the long-term – depending on how long you decide to stay in the same house. While 3-tab shingles can be expected to last between 10 and 25 years, architectural shingles often last between 20 and 50 years.
Resistance to Wind Speed
Wind causes damage to roofs at different speeds, depending on the roofing material. If you live in an area that's prone to high winds, architectural shingles are likely a better option since they can withstand wind speeds of between 110 and 150 mph. 3-tab shingles are usually only rated for winds between 60 and 70 mph.
Effect on House Value
Nowadays, architectural shingles are a much more popular option for home buyers. If you're planning to sell your house in the near future, you'll likely want to install architectural shingles. In addition, these shingles will increase your house's value in general because of their lifespan and wind resistance.
Do I Have to Choose Architectural Asphalt Shingles?
At the end of the day, if you like the look of 3-tab shingles better or you don't have the extra money to spend on architectural shingles, you can always choose to go with 3-tab shingles. After all, it's your house, so it's up to your preferences.
If you're ready to get your roof replaced or you just want to replace your shingles, contact Acme Roof Systems. With over 20 years of experience, their team can help you choose the right shingles to meet your wants and needs and then install them perfectly.