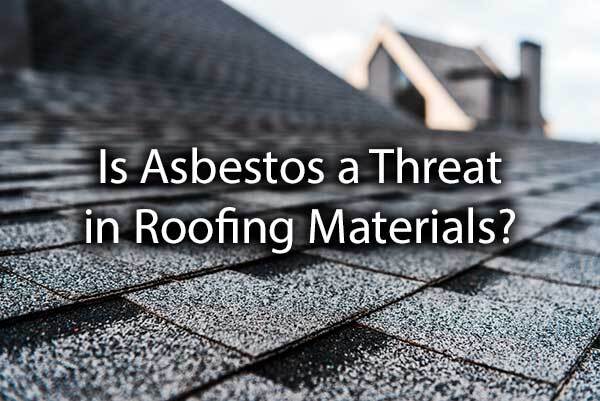 Before the 1970s, asbestos was a popular material used in roofing and construction. Its heat and chemical resistance made it popular, plus it had fireproof properties, and it added strength to building materials.
However, studies over the years have found that asbestos can cause a multitude of health risks, including cancer. Thanks to new safety regulations, asbestos was phased out of roofing products in the late 1980s. Today, all new products are asbestos-free, but does that mean that asbestos is no longer a threat? This article takes a closer look.
Roofing and Asbestos Exposure
Prior to the 1970s, almost all roofing material was combined with the lightweight, resistant, and inexpensive material of asbestos. Asbestos was considered more of a safety product, making roofs stronger and fire retardant.
Today, other materials have been found to replace asbestos, as it is dangerous and has negative health effects. While newer roofing materials are being used for new homes, some older homes might have products that still use asbestos:
AAA hip and ridge shingles
Careystone corrugated roofing
Eternit asbestos shingles
Fire-Chex '352' shingles
Flintkote roofing
Johns-Manville Blak-Kap duplex roofing
Asbestos Containing Materials
Asbestos is a serious threat to roofing technicians as it can lead to adverse health effects if breathed in. All asbestos roofing materials can be broken down into two categories: friable and non-friable.
Friable materials break apart or disintegrate easily. These materials produce airborne asbestos, which can be inhaled or ingested, leading to serious health conditions such as lung cancer. Examples of friable materials are as follows:
Niccolite (used under wood shingles)
Pipe insulation in roof spaces
Roof Paper
Sprayed insulation
Non-friable refers to materials that are more resistant to breaking down. However, when a building undergoes demolition, these materials can break down and cause the asbestos fibers to become airborne.
Caulking
Transite
Cement roofing
Felt paper
Mastics
Patch compounds
Do I Need to Be Worried About Asbestos In My Home?
Unless you own an older home that was built in the early 1900s-1970s and it is going through major renovations that include demolition, you won't have to worry too much about asbestos. Asbestos has been phased out of the roofing industry for today's materials. If you are undergoing renovation services on an older roof, turn to a knowledgeable team that uses only the best roofing practices and materials.
ACME Roof Systems have been providing the individuals of DFW with exceptional roofing services for over 25 years. Contact our team today for more information on our roofing services or an estimate on your roof repair, installation, or replacement services!