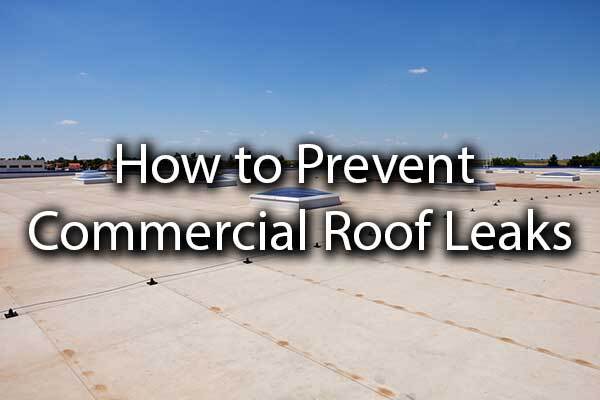 Business owners have a lot to keep up with. From making sure they have enough stock and dealing with customer concerns to ensuring their employees are taken care of, the last thing they want to think about is their roof. A roof leak can wreak havoc on any business. Water damage to buildings can result in mold or mildew, destruction of the product, and the creation of an unsafe environment for employees and customers.
During the spring and summer months, and even the chilly cold months of winter, your roof undergoes a lot of strain and stress. If your commercial roof is not cared for properly, a roof leak may cause an even greater headache. Here is how you can prevent your commercial roof from developing a roof leak.
Don't Leave Debris On the Roof
Texas is notorious for its powerful storms. These storms are known to pick up and chuck debris for miles. Some of this debris can land on your commercial roof. Older commercial roofs may see some light cracking due to the impact of the debris, but this isn't what makes debris so dangerous.
Debris that is left on a commercial roof can result in a puddle of water around the object. Since the water has nowhere to go, this can result in mildew or mold. This can weaken the material of your roof, leading to a higher risk of cracking and water seeping in.
After every major storm, it is important to check your roof for debris. Make sure to safely remove what you find, such as branches, dirt, and leaves, to ensure that no excess moisture gets trapped on your roof. A proper roof inspection from a trusted commercial roofing specialist can ensure that no debris or crack goes unnoticed.
Keep Any Roof Drains or Gutters Clear
Along the same lines as roof debris, a clogged roof drain or gutter can result in excess water becoming trapped. Clearing your roof drains and gutters should be part of your commercial roof's routine maintenance.
Don't Allow Tree Branches to Grow Over Your Roof
Trees near your building usually mean a gorgeous and fresh landscaping look for your business. However, these trees can be a death sentence to your roof. Trees that are not properly maintained by getting their branches trimmed back, so they do not hang over the roof can result in some nasty damage.
Falling limbs, acorns, or leaves can result in cracks in your roof or lead to a growing pool of moisture. Tree debris is also a leading cause of clogged drains and gutters, leading to commercial roof leaks. Make sure you are maintaining your landscaping to protect your roof from the darker side of mother nature.
Regular Roof Inspections and Maintenance
The biggest way you can protect your roof from leaks is by scheduling regular inspections and maintenance. This will make sure your roof is strengthened and lasts your business a long time. The professional team at Acme Roof Systems is dedicated to protecting commercial businesses by ensuring their roofs are looking and feeling their best. We offer routine maintenance, commercial roof repair, new installation, and renovations. Contact us today to learn about how we will put your business first!