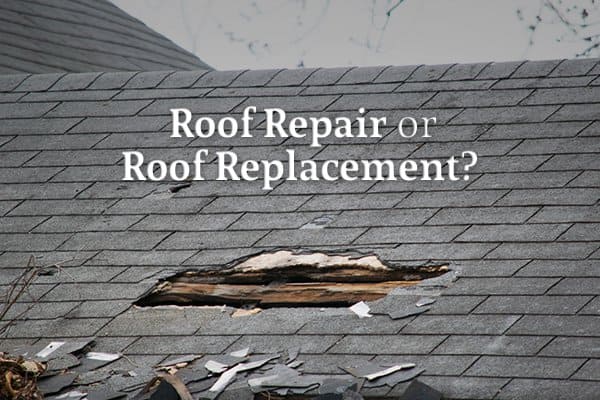 Your roof has seen better days. Whether damaged by a hail storm or the mere passage of time, you need to do something soon. Depending on your situation, you may opt for a quick repair or a full replacement; however, choosing between these roofing options can be quite difficult. Repair (also known as re-roofing) is the more affordable option at first, but it could end up being the more expensive option if more problems with a damaged roof continue to occur.
Not sure how to proceed with your damaged roof? No worries. Below are signs to look for as you assess your situation, as well as insight into when a particular solution is preferable.
Is the Damage Limited to a Specific Section of Your Roof?
First, determine where the bulk of the damage occurred. If you're lucky, it's largely limited to a confined portion of your roof. For example, a few shingles may require replacement due to a fallen branch or a brief burst of wind.
These can be replaced without requiring an entirely new roof. It's a popular solution among those who have recently invested in a new roof since it would be disappointing to pay for a full replacement if you got your new roof just a few years ago.
The main downside of repairing a small portion of your roof? The patch job is not guaranteed to match the remainder of the roof. Hopefully, you'll have saved some shingles from the original installation. This is rare, however, so your roofing contractor may be forced to find as close of a match as possible.
If the new shingles don't look similar to the existing roof, it can reduce the value and curb appeal of your home. If, however, the damaged area is in a relatively inconspicuous spot, repair could be a viable option, regardless of how well the shingles match.
Are There Signs of Water Damage?
The presence and location of a leak could play a huge role in whether you repair or replace your roof. For example, isolated leaks along flashing points can easily be repaired. However, a full roof replacement may be warranted if leaking is detected in several locations.
Extensive moisture damage is a sure sign that you have a serious problem on your hands — and that replacing a few shingles will not solve the issue in the long run. Think carefully about not only the current status of your roof but also the interior that it protects.
Have you spotted mold or peeling paint within your home? Are there brown spots on the ceiling? If so, your roof probably isn't doing its job, and a simple patch job won't change that. Moisture damage indicates that you're overdue for a new roof.
When Was Your Roof Last Replaced?
Patch jobs or partial re-roofing provide a temporary solution to concerning issues, but further problems are bound to arise as time passes. The potential for new problems to arise multiplies as your roof ages. Depending on the age of the roof and the extent of the damage, it might be worth investing in a brand new roof.
The materials used to construct your current roof may also factor into your decision. Asphalt, although initially affordable, needs to be replaced more often than slate. Two roofs can be twenty years old, but only one may be near the end of its lifespan, depending on materials.
Often, roof repair versus replacement comes down to short versus long-term finances. Not all homeowners can afford a brand new roof on short notice, and so the large upfront cost of a new roof may make repair seem like a more reasonable solution.
Cost of Repeated Roof Repairs
Unfortunately, the cost of repeated repairs can add up quickly — and after multiple repairs, you'll probably still need to replace your roof. It's often worthwhile to pay a little more upfront for a quality replacement rather than continue to repair an exceedingly damaged roof.
Whether you're leaning towards roof repair or replacement, one reality is abundantly clear: you should not wait to address your roofing situation. The longer you procrastinate, the more damaged your roof will become — and the tougher you'll find it to address the issue. Your roof is your first line of defense against a variety of broader issues with your home, so don't take it for granted.
Roof Repair or Replacement? Ask Acme Roof Systems
Still not sure whether your roof warrants repair or replacement? You don't have to make this decision alone; the experienced team at Acme Roof Systems can help. Boasting over two decades of success in roof inspections, repairs, and replacements, they're committed to your full satisfaction. Contact us today to learn more about our services.