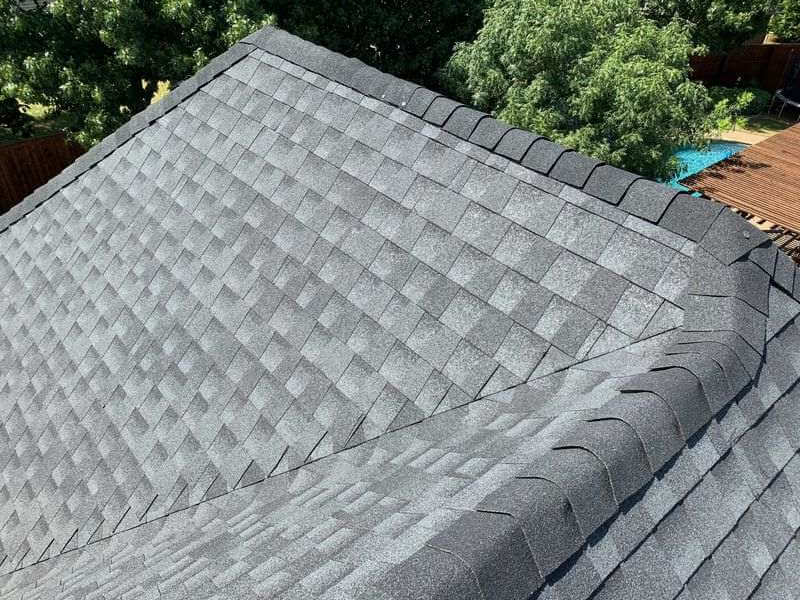 When it comes to your roof, there are a wide variety of shingle options to choose from. From 3-Tab shingles to metal shingles, the style and protection these shingles offer differ from each other. We often get asked by our clients about what makes each of these shingles different and how a homeowner can choose the best one for their home.
In this article, the dedicated roofers at Acme Roof Systems will present an overview of the different types of shingles available for homeowners in the DFW metroplex so that they may make a more informed decision about which type they want for their new home build or to replace their existing roof. Here is your roof shingles guide:
Asphalt Shingles
Asphalt shingles are currently the most common type of shingle on the market in the United States. They come in many different types, are easy to install, highly accessible, and are economical to produce which aids in keeping their price lower. Their long lifespan and lower cost make them a favorite for many homeowners across the United States.
They are made of a material mixture which often includes asphalt, granules, sealants, fiberglass, and release film. A stable resin is used to bind the glass fibers together to reinforce the shingle and provide additional durability. The asphalt is water-resistant and the granules on the shingles provide their unique color and UV protection.
Asphalt shingles were designed to protect the home from severe weather and damage caused by moisture. They require minimal maintenance which keeps the lifetime cost lower. On top of all that, they are available in a wide range of colors and styles that are sure to meet the needs of every homeowner.
The Different Types of Asphalt Shingles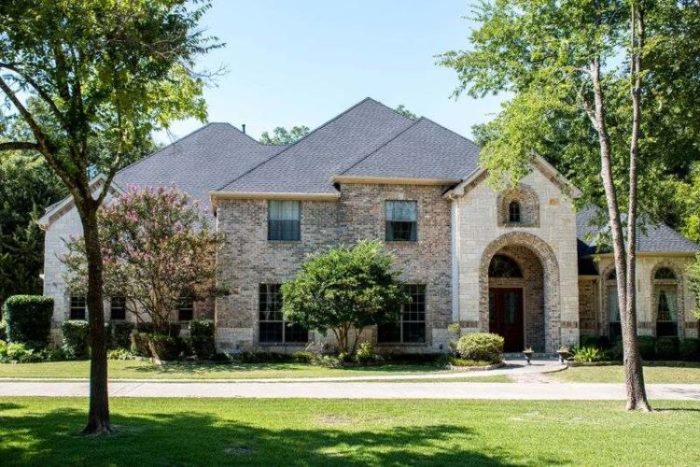 There are a wide range of asphalt shingles on the market. These are the types that Acme Roof System provides:
3 Tab Shingles
3-tab shingles, also known as strip shingles, are the most basic form of asphalt shingles. They are made of a single layer of asphalt and cut into strips. They look flat and offer a sleek look to your roof. 3-tab shingles are a lightweight option and are the most affordable option for homeowners. However, they lack the sophisticated visual appeal that many homeowners enjoy and they are not as durable as other asphalt shingle options. They are prone to blow off during heavy winds in severe storms. 3-tab shingles have a lifespan of 18-20 years.
Dimensional/Architectural Shingles
Dimensional shingles are also known as architectural or laminate shingles. These shingles are given two or more layers to give them a thicker, multi-dimensional appearance which creates a gorgeous and aesthetically pleasing roof. They can be made to replicate natural slate or wood shake, which aids in boosting curb appeal and improving the overall value of the home. These shingles are a heavier option that needs to be taken into account, as they increase the weight of the overall roof. However, they are more durable than the 3-tab shingles. Architectural shingles often have an impressive lifespan between 25-28 years and often come with a manufacturer warranty.
Luxury Shingles
Also known as premium shingles, luxury shingles are the highest quality of asphalt shingles. They are known for their eye-catching appearance and impressive functionality. They offer premium weather protection while aiding to boost the overall aesthetic appeal of a home. They have a wide range of color options and can be made to replicate wood shake and slate roofing.
They are heavier than both architectural and 3-tab shingles but their added weight adds extra strength making them hardier in inclement weather. They can withstand high winds and impact damage from hail, making them a popular choice for the DFW area. Luxury shingles have an incredible lifespan of 25-30 years.
Composition Shingles
If you are looking for a variant of the asphalt shingle, composition shingles may be right for you. They are made using fiberglass, asphalt, and recycled paper to make them more environmentally friendly and durable. They typically come with a 50-year manufacturer warranty that allows homeowners to protect their investments. They are lightweight and durable against inclement weather and the elements. Unlike other materials, they don't typically crack when exposed to varying weather conditions nor do they warp.
Aluminum Shingles
Metal roofing has been increasing in popularity across Texas over the last decade. Aluminum shingles have become an easy favorite due to their lightweight and easy installation which aids in keeping the costs lower. They are the perfect option for homes whose structures do not support the use of heavier shingles. They are known for their long lifespan, which with proper maintenance, can reach up to 100 years. Aluminum shingles also offer incredible durability that allows them to withstand inclement weather which is common in the Northern and Eastern Texas areas.
Standing Seam Metal Roof
A standing seam metal roof is a bit different than your average shingled roof. They are made from raised seams that are raised above the flat area of a metal panel. A standing seam metal roof has fasteners that are hidden underneath the seams, giving them more durability. The metal panel can be attached to the roof deck by a clip that is then directly fastened to the ducking material with a fastener flange underneath the vertical leg.
These roofs come in a wide range of colors, widths, and shapes which have allowed them to come extremely popular among homeowners as they can pick the aesthetics that best fit their style.
Corrugated Steel Roofing
Corrugated steel roofing is made of metal sheets that are rolled to form panels. These steel panels, which are traditionally wavy, are screwed directly into the roof. It's a low-cost option that provides the same protection that many homeowners love of a metal roof. Long lifespan, energy efficiency, and incredible durability.
Wood Shingles
Wood shingles are an extremely popular option due to their beauty. They are cut into perfect identical shapes that improve their beautiful aesthetic. Their unique appearance has many homeowners falling in love with them however, homeowners should be aware that they require a bit more maintenance to keep them looking pristine and keep their durability high.
Unlike asphalt and metal roofing, wood shingles are more susceptible to developing mold and rot from continued exposure to the elements. With proper maintenance, these shingles can last anywhere from 15-50 years. It all depends on what type of wood is used for the shingles, how it is treated before it is installed, the quality of the installation, and how well the homeowner maintains the roof during its lifespan.
Wood Shake Shingles
Wood shake shingles are different from wood shingles by the way they are cut. Wood shake shingles are sawn off or hand split to give them a more rustic appearance. They are typically made out of cedar trees and due to the higher quality of wood, they are more expensive than traditional wood shingles. They have an impressive lifespan of 30-40 years, that like wood shingles, depends on how well the wood is maintained after its installation.
Clay Tiles
Clay roofing tiles are made from clay and can range in color from yellow, white, orange, and brown. The density of these tiles changes depending on how long they were heated and the temperature during the manufacturing process. These types of shingles are one of the most durable on the market.
They are popular for their unique appearance but, due to the complexity and nature of how they are made, they tend to cost a lot more than asphalt shingles. However, they are a long-lasting option that is eco-friendly, low maintenance, and resistant to rot and mold.
If your home has a significant slope to it, then these shingles may not be for you as their weight can cause problems.
Concrete Tile Roof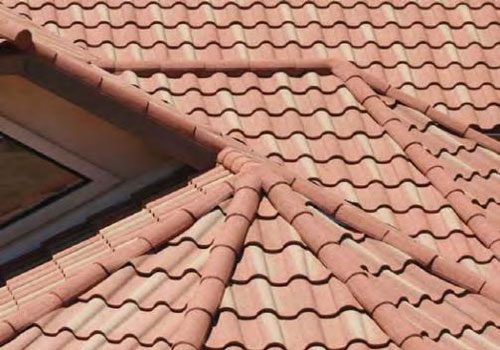 Concrete roofing tiles are an affordable option that gives homeowners the chance to have the same look as a clay tile roof without the extra cost. They are a durable option that have an incredible lifespan of 50 years. They offer excellent protection against inclement weather and do not require a lot of maintenance. They are resistant to mold and mildew but, like clay tile roofs, are heavy and may not be suitable for all roof slopes. Speak with your trusted roofing specialists for information about whether a clay tile roof is good for you.
Slate Roofing Tile
This prestigious roofing material is popular for its gorgeous appearance. They are created from metamorphic rock which makes them susceptible to having a weak bond between its layers. This is why most manufacturers split the tile right along these planes. However, improperly manufactured slate tiles, or improperly installed ones, can have a higher tendency to crack. A roof that uses slate tiles that has been properly installed with high-quality material can last about 50 years before needing a full replacement.
Due to the potential weaknesses of slate tiles, the installation process can be a bit complicated. They require a solid mortar surface and a skilled hand to keep them from splitting.
Impact-Resistant Shingles
Northern Texas is known for its intense storms that bring about high winds and lots of hail. Impact-resistant shingles are an excellent choice for homeowners in the DFW metroplex as they are designed to withstand these harsh conditions. They are available in a variety of materials, such as copper, aluminum, and resin.
For a shingle to be considered an impact-resistant shingle, it must undergo intensive testing. These tests involve dropping four different sizes of steel balls, ranging from an inch to a quarter to two inches, and are dropped from varying heights. These heights range from 12-20 feet. This test is meant to imitate the falling of hail at different speeds. In addition to the "hail test," the impact resistant-shingle must be able to withstand wind speeds up to 110 miles per hour.
Need Help Deciding What Type of Shingle Is Right for You?
Acme Roof Systems has been proudly serving both residential and commercial clients of the DFW Metroplex since its founding in 1995. We have gained a solid reputation as one of the most trusted roofing companies in our area. With more than 35,000 satisfied customers under our belt and over 55 million square feet of roofing installed, you can guarantee that our roofing specialists have the expertise to get the job done right.
We offer a wide range of shingle options for both home and business owners. We would be more than happy to sit down with you and discuss the best option for your building. Contact our team today for more information on our services or to schedule an appointment with our team.
Roof Shingles FAQs
What Are the Most Popular Types of Roof Shingles?
The most popular types of roof shingles are as follows:
Asphalt 3-tab shingles
Architectural shingles
Composite Shingles
How Long Do Roof Shingles Typically Last?
The lifespan of a roof shingle varies depending on the type of shingle that is being used. 3-tab shingles have a lifespan of 18-20 years while a corrugated metal roof can last up to 100 years with proper maintenance.
Are There Any Eco-Friendly Options for Roof Shingles?
Yes! There are several eco-friendly roofing shingles available. Metal materials are recyclable, cutting down on costs and energy consumption.