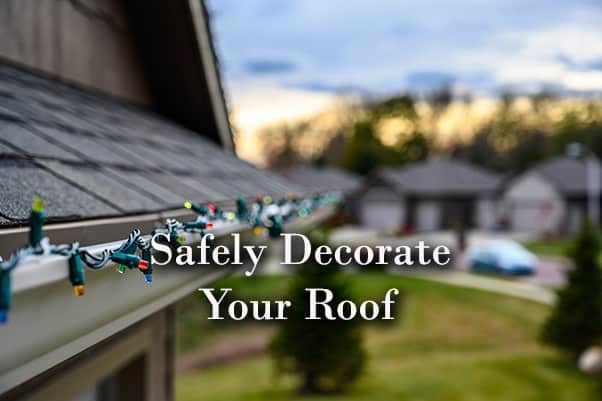 With the holidays upon us, are you determined to make your house full of wonder and decoration? Gorgeous lights, eye-catching lawn ornaments, even a cute sled with eight tiny reindeer on the roof. You have this Christmas in the bag! However, while your reindeer and Santa may be sitting prettily on your roof, if they are placed improperly, those 12 days of Christmas can turn into 12 days of horror. Not to worry. Acme Roof Systems are the experts when it comes to roofing, and our team has created some tips to help you safely decorate your roof this year.
Don't Staple Your Lights
One of the biggest mistakes homeowners make when decorating their roofs is using a heavy-duty stapler to keep lights secure. While this does keep your lights in place, it wreaks havoc on your shingles. The staples strain the shingles, which can result in cracking and denting. When you remove them, the damage spreads.
Fortunately, staples are not the only option homeowners have when it comes to securing a beautiful light design on your roof. Light clips are great as they can attach easily to your gutters or grooves of your roof. They help hold the lights tightly into place without putting a large strain on your shingles. At the end of the year, they are fairly simple to take off without damaging your roof. Be cautious and don't put too much weight on your gutters. Make sure that the clips are spaced out so the weight of the lights and decorations can be evenly distributed.
Avoid Using Nails
Too much force and pressure can cause some serious damage to your shingles. Avoid nailing any decorations to your roof. Not only does a nail pierce the shingle, resulting in a hole, but the force of hammering it in can damage the underlayment. When this happens, you run a higher risk of developing a leak that will cause major problems, such as mold growth. Our experts highly recommend sticking with the clips to protect your roof from damage while ensuring that your decorations remain secure.
When Should You Avoid Roof Decorations?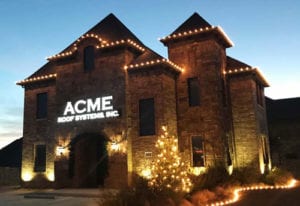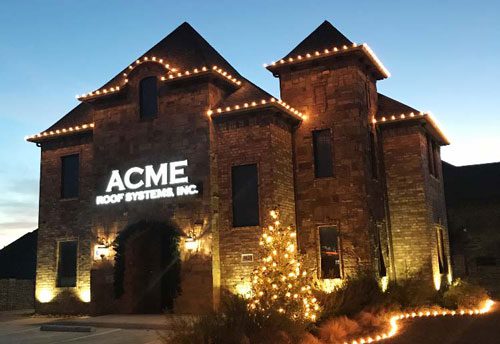 All roofs are different. Depending on the style of home and the slope of your roof, decorations such as inflatables or plastic figurines should only be reserved for roofs with slopes less than 45 degrees. The weight of the decorations will be pulled towards the ground by gravity, creating a major strain on your shingles.
If your roof can handle decorations, inflatables and other light-weight decorations should be tied down by using clips and twine. This will help them remain on your roof during winter storms or heavy winds that may come through the area. (However, if the area you live in is prone to extremely severe storms, it may be best to keep these types of decorations off your roof altogether.)
Other Safety Tips
While protecting your roof is great, ensure that you are protected as well. Following these guidelines can help you ensure the safety of yourself and your roof:
The Buddy System
Never go on your roof without the assistance of another. You will want someone to be a spotter for you. This reduces the risk of an accident, and in the off-chance that there is one, he or she can get help.
Test Your Ladder Before You Make the Climb
Your ladder should be tall enough so it reaches a little past your roof. Secondly, ensure your ladder does not have any loose bolts or steps that could cause it to collapse or fall. Safety is always a number one priority and checking the durability and height of your ladder before you begin decorating is paramount.
Invest in a Roof Inspection
If your roof is damaged, adding decorations may worsen its condition. It is extremely important that you invest in a thorough inspection of your roof.
Need a roofer to check out your roof to ensure that it is ready for the holiday season? Contact Acme Roof Systems today for all of your roofing needs. Our experts can help you with repairs, replacements, and inspections. No matter what your roofing needs, Acme Roof Systems has the answers!