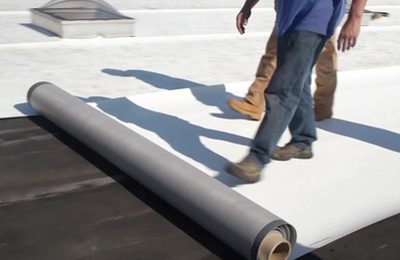 Your business relies on its roof heavily for protection against the elements, keeping the inside of your building conditioned, helping to reduce energy costs, and in some cases, providing a firm setting to house some of your bigger appliances, such as commercial HVAC units. A leaking or damaged roof can lead to serious water damage for your building and to your products. This not only harms your property's overall integrity and value but also makes it increasingly dangerous for your clientele and employees.
Knowing when to invest in a flat roof repair is essential to the success of your business and the strength of your building. If you are thinking about getting your flat roof repaired but are unsure of what all that entails, this detailed guide by our commercial roofing experts at Acme Roof Systems can help! Here is what you need to know about flat roof repairs.
Flat Roof Repairs: Knowing When Repairs Are Needed
Sometimes obvious signs of flat roof damage, such as leaks, can alert you that your flat roof needs repairs. However, other issues, such as weakening insulation due to damage may not be apparent at first. It is important to be on the lookout for these issues so you get your flat roof repaired before they turn into major issues.
Rising Energy Bills
A rise in your energy bills can be due to several factors. If you are operating on an older commercial HVAC system, then its energy efficiency may be decreasing. However, if you have gone through all of the internal possibilities that could be causing your energy bills to rise, then it may be your flat roof that is the problem. Damage from storms or wear over time can cause areas of your flat roof to be weaker insulators. This leads to your conditioned air escaping, making your HVAC unit work hard and putting a strain on your energy costs. Thankfully, an inspection from your trusted commercial roofing team can help you get to the bottom of issues that are plaguing your flat roof. Repairs include reinforcing that area of your roof, and improving its ability to insulate. 
Flat Roof Leaks
One of the most obvious signs that there is a problem with your roof is a leak. This is not something to mess around with. Water damage can not only harm the products you have in your store but it can also lead to a weakening of the integrity of your building's structure. It also encourages mold growth due to the trapped moisture, putting your employees' and consumers' health at risk.
The best way to ensure that your business, clientele, and employees are protected is by investing in a flat roof leak inspection and repair service as soon as possible. Our team takes roof leaks seriously, and will quickly act to ensure that the source of the leak is found and repaired quickly. 
There Are Signs of Visible Damage On Your Roof
It is highly recommended that you get your flat roof inspected at least once a year to ensure that there is no damage from storms or normal wear and tear that has gone unnoticed. These are the following signs that your flat roof has suffered damage and needs some TLC:
Flashing is damaged
Blistering and cracking
Areas of pooling water
Noticeable signs of impact damage
How Is a Flat Roof Repaired?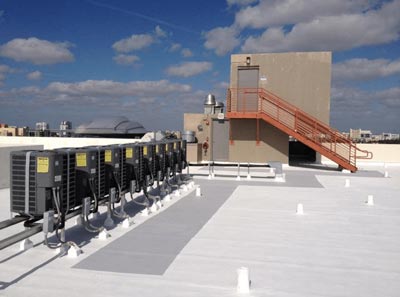 Not all damages warrant a full replacement of your flat roof. A flat roof repair service can help extend the lifespan of your roof and ensure that you are getting the most out of your investment. Here are some of the ways a flat roof can be repaired:
Flat Roof Patch
A flat roof patch service is used on smaller areas of damage. This type of repair is only effective if moisture hasn't pooled or spread to the roof deck or surrounding areas.
Flat Roof Re-Covering Service
Another option to repair a flat roof is a re-covering service. This process adds another layer of the membrane, (either ethylene propylene diene monomer rubber (EDPM) or thermoplastic polyolefin or TPO) over the existing flat roof without removing the damaged material first. This works well for areas that have minor damage and just need to be reinforced. It can also be used as a way to reinforce an older roof that is showing signs of minor deterioration.
Flat Roof Coating Services
Using a similar process to the flat roof re-covering service, a roof coating is done using a thin liquid membrane on top of the existing roof. This proactive measure can be done to protect weakened areas from sustaining major damage. This should only be done if there is no sign of insulation or structural issues yet.
Need Your Flat Roof Repaired?
Acme Roof Systems is proud to serve the businesses of the DFW Metroplex with all of their flat roof repair, replacement, and new installation services. Our team only uses the highest-quality materials and practices in the trade to ensure that our work is top-notch. We know that quality starts at the top, which is why we refuse to cut corners. Your roof is a vital part of your business's safety, security, and success, so it is important to ensure that you are investing in top-quality workmanship. Schedule your flat roof inspection today by contacting our team by phone or filling out our contact us form on our website!